Leading CRM implementations
Customer Relationship Management is one of the software that covers a wide range of applications that is helpful for business management. The applications include managing customer data, customer interaction, contracts, tracking leads, marketing, customer support, etc.

What is the role of CRM applications?

The applications are meant to increase intra-department efficiencies, improvement in cross-sell as well as up-sell opportunities. Customer satisfaction is another vital aspect that is taken care of by these applications by offering convenient access to customer data throughout customer-related processes.

What an ideal CRM implementation should provide?

An ideal CRM should provide the following:
- It reflects the ideal sales process that the company follows.
- It should add value to every team including sales, marketing, production and customer support team.
- It offers ease of usability.
- It also offers accessibility from anywhere and with ease.
- It provides synchronization to all the tools like email, chat, social media, web forms, customer tickets, etc. in one place.
- This helps in the collection of data easily. That means responding quickly in unexpected scenarios is faster.

However, choosing the right CRM for your business is not very easy. You need to go through the details of each CRM project and spot the pros and cons each of them has. This is time taking and daunting task. However, even after choosing a suitable CRM project for your business, it fails; it is high time to rethink about the project.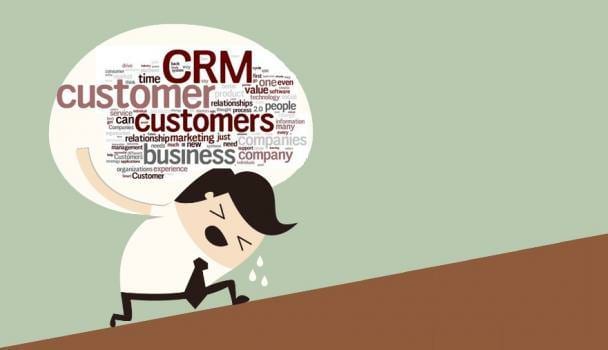 What are the reasons for which a CRM project fails?

To understand which CRM project is best for your business and to gain maximum output, you need to understand what can be reasons that make a CRM project fail. Here are some of the reasons for which a CRM project fails:

- When the objective is poor: When the objective or the goal is clear, the strategy in the next steps can be taken properly. However, a lack of lucid and quantifiable goal makes the project aimless, questionable and doubtful incompletion. To identify the objective, proper tools can be used that can measure the impact of the software in terms of users, customers and business needs. Although, the objectives do not include revenue improvement, yet, without measuring revenue impact, calculation of ROI is not possible. The same is true for the user goals in CRM. However, without knowing the user experience and the issues in managing the customer relationship in a business, one cannot confirm whether the project
is successful or not.

- With Poor CRM strategy: A CRM strategy helps in understanding the entire road map of the business. This strategy if lacks the customer-facing outcomes, the revenue goals like customer share, customer tenure, customer acquisitions, etc. The aim of CRM strategy is the growth of mutually advantageous customer relationships. Lack of CRM strategy implies CRM software implementation that helps in obtaining customer data and maintaining staff activities, without improvement in customer relationships. Also, if the implementation of CRM software does not improve your customer relationships, then there is no point in using the software. However, a CRM strategy supports the business priorities of the company
directly and makes CRM really helpful in successful and sustainable business.

- Projects with scope creep: Scope creep or requirement creep is dangerous in project management and it may arise after the project begins. The creep is nothing but the changes and continuous or uncontrolled growth in the scope of the project. That means if the scope is not managed properly or documented properly, the creep can arise. Omitting any scope in the project causes significant overrun of the project. Most of the CRM implementation methodology micro-manages individual scope regions that include application deployment, system integration, data migration, staffing, software customization, etc.

- User Adoption: In most of the CRM implementations, resistance to change is inevitable. However, without delaying to address the resistance properly and eliminating the chance of spreading the same from a few challenges to defiance, the point from where recovery is possible is lost. The project is then destined to fail. The events and work of arts like change readiness assessments, business, and technology impact analysis, value realization measurements, communications plans, learning and training tools, post-go-live intermediation measures, etc. ensure that the resistance to change is not delayed and the CRM project does not fail.

- Poor Business Process Design: A study reveals the fact that any business changes its strategy once in a year or approximately every 20 months. Whereas, the business process designs, are changed only after some years. Business process automation is believed to be one of topmost contributing feature for increased employee efficiency. Automation or mechanized processes reduce time consumption and errors. That means, business process improvement and up-gradation creates a good impression for customers.

- Lack of integration: The business strategy and the strategy must have integration. If the CRM strategy can be viewed as a solution that is separate from the entire business plan, then the customer relationship is omitted and that will result in business downfall. In every
business strategy, the customer plays a core part and that is why the integration is vital.

- Mobile is overlooked: Mobile and smartphone have captured the attraction of everyone these days. Each and every task can be possible by touching the screen of the mobile, as it seems. So, mobile and smartphone are one of the most used devices amongst people. If the CRM strategy is not considered for mobile users, instead thought to be only for the laptop or desktop users, then this can be a problem. That means overlooking the device is a wrong step. You can really take the benefit of mobile users by implementing a CRM app that helps in enhancing productivity and operational efficiencies.

- When CRM is meant for an IT project: Customers do not understand the technology or tools from their deep root; rather they are comfortable with the interactions with people, electronic media, processes, etc. So, designing the CRM project in terms of customer usability and understandability is much more effective than considering it as an IT project with complicated tools or platforms. That means a project that has coordinated efforts of technologists and business users is more successful than where the project is only IT based.

Quick tips on making them successful:
- Marketing efforts and sales activity should be integrated.
- Top management should involve and inspire others as well as build credibility.
- Getting an awesome project manager to orchestrate the entire project effectively.
- A dedicated super-user or the one who will test drive everything in the project after any of the product release or software updates.
- Sufficient training should be provided to ensure the efficiency of the project.
- A proper CRM strategy must be taken to ensure the project to complement your business development plan.
- Motivation plays a vital role in every project and in CRM also, it is true. So keep motivating the team by offering a small token of achievement and motivation does a lot of positive change.





Conclusion:
If the failure reasons are taken care, the success path can be clearly viewed. Last but not least, the SuperOffice Implementation Method can be applied to identify the root cause of failure and the way to success. What this SuperOffice Implementation Method is all about? This is nothing but the four phases - identify, initiate, design and implement. Implementation of CRM strategy in business is the adoption of a new way of thinking that is out of the box. So, immense care in every step starting from setting the mindset to customer

Whether you are having issues on implementation of the CRM project, CRM project management, etc. you need a platform where the problems can be solved easily without hiring a full-time problem solver. AIDOOS is one such platform for your CRM related issues and its solution.