Remote lunch and virtual coffee breaks
Remote lunch?
Why not?
People who work at offices are likely to eat with co-workers and socialise on a daily basis. However, remote workers miss this valuable time to bond and socialize with co-workers.
Audio and video conferencing apps such as Skype can enable remote co-workers to take part in lunch or coffee breaks in "real time."
Benefits -
1) It is fun and energizing to talk about non-work things and a bunch of random, fun things. It will reduce your feeling of isolation and detachment while working remotely.
2) It also offer a sociable, collaborative way to foster a culture of learning and knowledge sharing. This can encourage teamwork and cooperation with creative work thinking.
Challenge #1
Coordinating Time for Lunch - People prefer to take lunch at their own convenient time, so basically first issue is about coordinating time and getting your plate ready at that time.
Solution: Pragli - Virtual Office for Remote Teams
With Pragli, you can see your team in the virtual office and schedule lunch easily.
Challenge #2
Gross Eating Noises - It's really gross to watch someone eat over a video camera, mainly, because microphones pick up eating noises and amplify them.
Solution: Krisp - Mute Background Noise During Calls
With Krisp, you can filter out eating noises. With a single button, all background noises will be removed.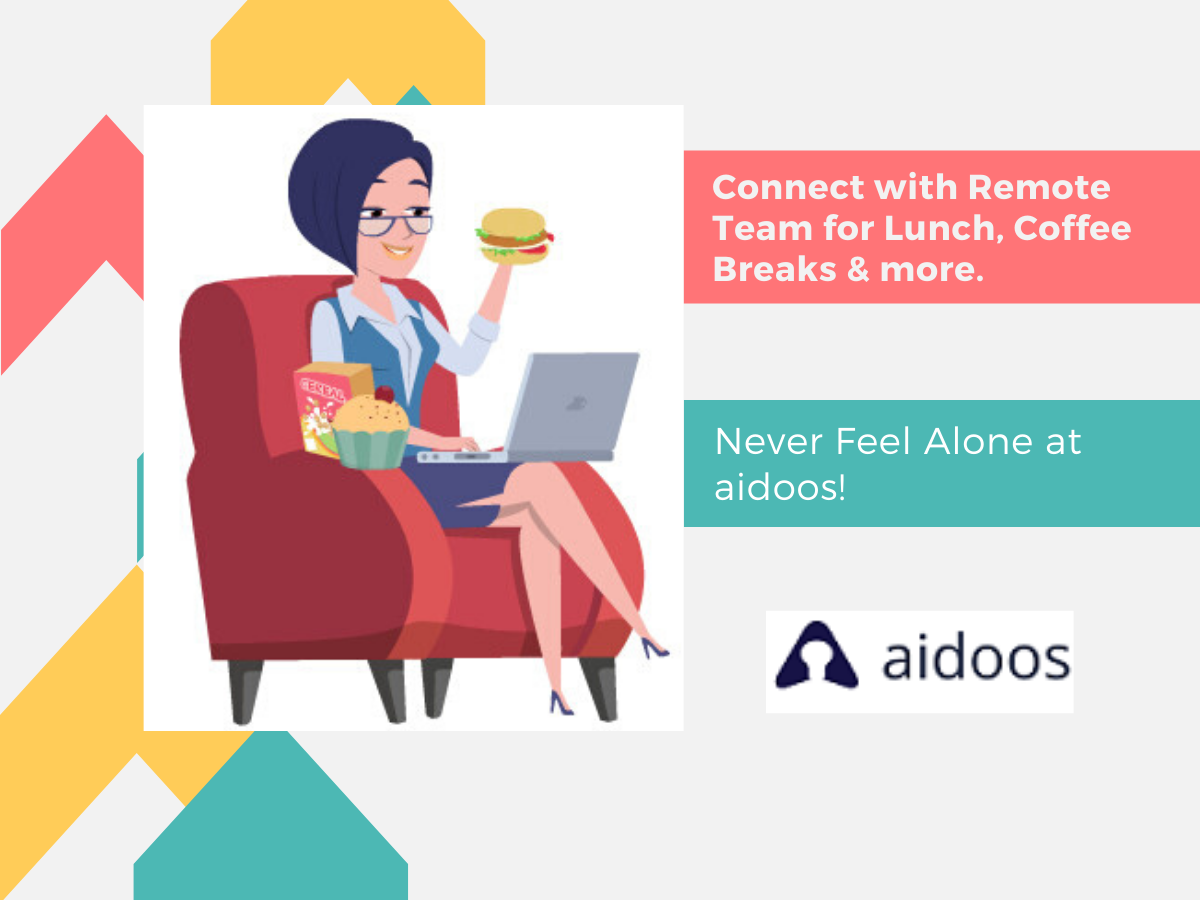 We, at aidoos, enable subject matter experts like you to remotely connect to your dream companies and work on their business critical systems.
On aidoos platform, you will have great autonomy, flexible work schedule, unlimited vacation & earnings.
While working at aidoos, even if you are working remotely, you will never get the sense of loneliness and detachment.
You can connect with your remote team for Remote Lunch, Virtual Coffee and much more.
So, if you are all set to shift your career path towards a new era of freelancing, go ahead and Sign Up yourself as an expert at aidoos and Get Set Go!